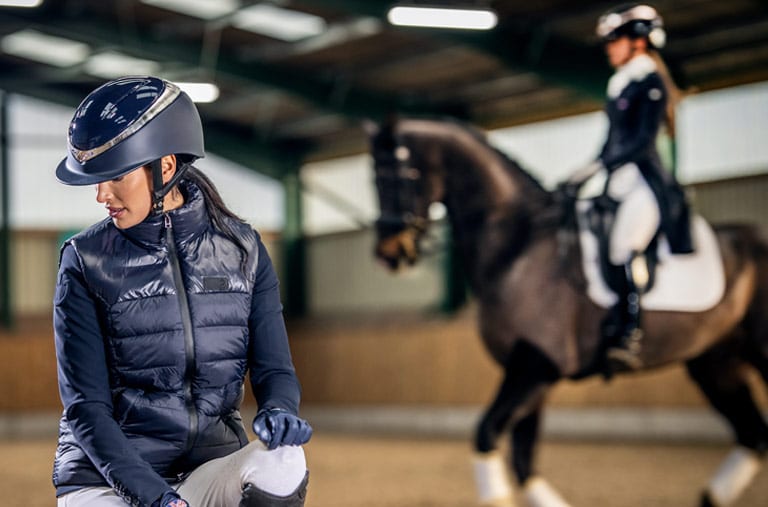 We know buying a new riding helmet can be a bit overwhelming.
From types of riding, styles and features, safety standards, to measuring and fitting, there's plenty to consider.
Charles Owen has a choice of more than 30 of the best and safest riding helmets available, many handmade in Great Britain. Our extensive range caters for every rider, no matter the discipline or shape of your head.
This guide takes you through the steps of choosing and buying the best helmet for you.
Steps for choosing the right helmet
There are 7 main things to consider:
Types of helmet and riding
The first thing to consider when buying a new helmet is the kind of riding you'll be doing.
Riding helmets are designed and made for different types and disciplines of horse riding. This is because the activities, risks and culture vary with each.
A racing jockey or cross-country event rider is at higher or different risk of injury than a showjumper or dressage rider.
If you compete, each discipline has its own rules for what helmets can be worn. This includes minimum safety standards and sometimes style and colour.
Many horse riders enjoy different types of riding and therefore have helmets to suit each activity.
See our guide to the best riding helmets for each discipline.
Here are the main categories and styles of riding helmet:
General riding, showjumping, dressage, hacking.
Not suitable for racing and cross-country eventing because of the fixed peak.
Helmet customisation is very popular to co-ordinate with your riding outfit.
Racing, eventing, hunting, schooling, hacking.
Helmets covering more of the head, without a fixed peak and meeting the highest safety standards (eg. the 4Star meets 4 standards).
Often paired with jockey silks which have a soft fabric peak.
Showing, showjumping, hunting, hacking.
Highly traditional and elegant whilst still maintaining the latest safety standards.
Take a guess! Superior protection, traditional styling and wide brim to aid vision.
Not so much a type of riding, but these hats are specifically designed to appeal to and meet the needs of children and beginners.
Within this category, we have helmets for each discipline.
In the UK kids riding helmets are VAT free.
Riding helmet safety
Once you know the type of helmet you need to choose, it's time to really check a helmet gives you as much protection as possible.
As much as the look and feel of a helmet are important, safety is the whole reason riding helmets exist.
There are three main international equestrian standards to look for: Kitemark PAS015:2011, Kitemark VG1 01.040 2014-12 and SEI ASTM F1163:2015.
Equestrian safety standards have come a very long way in recent years, but not all helmets are created and tested equally. Just because a helmet is on the market, does not mean it is giving you the best level of protection.
There are still different levels of safety standards which test for different types of accidents. For instance, a helmet only certified to ASTM has not been tested for a horse's hoof landing on your head.
You should always choose a riding helmet that has as many certified standards possible.
90% of Charles Owen helmets meet all three, and our 4Star skull cap also carries SNELL E2016 for the extreme situation.
Read more about safety standards
However, standards alone will not protect you. It's very important that you wear the correct size and that the helmet fits your head.
Helmet safety checklist
Here's a quick list of important safety takeaways:
Always wear a helmet around horses, including handling
Buy the safest possible (multiple safety standards)
Know your head shape and size (more on this below)
New helmets should be snug, they'll mould to your head over time
Get professionally fitted if possible
Don't borrow or buy second hand
A helmet's maximum lifespan is 5 years
Cycling and motorcycle helmets are unsuitable and unsafe for horse riding
Riding helmet features
Safety is of course the most important feature of a helmet, and you can be confident that with Charles Owen that is taken care of.
Now let's run through the other main features you can find on various helmet models to enhance comfort or look.
Removable headband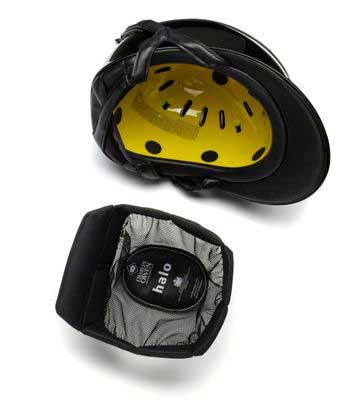 More than half of our helmets now come with a removable liner. These are anti-microbial and machine washable so you can easily pull it out to freshen up the inside of your hat.
Over time these cushioned liners can become flat through wear, so another benefit is being able to replace a headband with a new one rather than replace the whole helmet.
Liner cup headbands can help adjust the size of a helmet too.
View helmets with removable headbands
Ventilation
All Charles Owen helmets have vents to allow a cooling airflow over your head, but some offer more ventilation than others.
The Halo features a unique 360° ventilation system whilst our innovative Free Fit cross-ventilation system is found on some models (4Star, SP8 Plus). This technology maximises airflow to dramatically improve cooling and evaporation of sweat.
If you ride in warmer climates, opt for helmets with front and rear ventilation or our Free Fit system.
Wide peak
A couple of our riding helmets come with a wide peak option. A wider brim or peak provides superior shade and is a great feature for protecting your face and neck from the sun (or rain!).
Some riders also like the elegant look of a wide peak.
Chin strap and harness
Often overlooked, these components of a helmet are very important and play a vital role in ensuring the helmet does not come off your head.
Both features should be easily adjustable, secure and comfortable.
All Charles Owen helmets are engineered to stay in place during a fall. Our patented GRpx® technology harness gives superior fit by gripping the back of your skull with self-adjusting suction cups.
MIPS technology
MIPS is a relatively new technology to 'top up' safety in some equestrian helmets.
By adding a thin layer inside the helmet, MIPS provides some extra protection against rotational motion that is a major cause of concussion.
Read more about MIPS in riding helmets
Vegan leather
Veganism has grown in popularity and we are often asked if our helmets are suitable for vegans who do not want to wear animal products.
The majority of our products are vegan-friendly, including helmet covers, straps and harnesses (you may see us use the term 'leather-look').
Please contact us if you'd like assurance on any particular product.
Accessories
You can further enhance your new helmet with extras such as hairnets and silks for jockey skulls.
To better protect and extend the life of your helmet, we highly recommend storing it in a helmet bag or helmet backpack, and regular cleaning.
Style and finish
The choice when it comes to the look of your helmet is huge! Many helmets come in a variety of colours and materials.
If you're after total customisation, try designing your own bespoke My Halo CX or MyAyr8 helmet!
Every Charles Owen helmet is handmade in Great Britain by highly skilled craftspeople. Whatever style you choose, you'll find our quality and finish is second-to-none.
Examples of available covers and finishes:
Crocodile skin trim
Crystals
Gloss
Leather-look
Matte
Heat-reflective metallic paint
Rose gold
Suede and microsuede
Sparkly
Velvet
How much are riding helmets?
The price of riding helmets varies widely, based on where and how they are made, the safety standards met, the quality of materials used and the finish.
You should always aim to buy the best and safest helmet possible to suit your riding. A safer helmet does not always mean it's expensive.
In fact, our helmet range has been carefully curated to meet any budget, with 90% meeting or exceeding three international safety standards.
In the UK, all helmets sized 55cm and below are VAT free.
Use our product price filter or sorting to get a feel for how much a riding helmet costs that best meets your needs.
Sizing and fitting
Once you've selected the model of riding helmet and the features you'd like, it's really important to select the correct sizing for your head.
Our helmet range caters for every head type. If you've ever thought 'Charles Owen don't fit my head' then it is likely because the sizing was not quite right or you have a rounder head and need a Round Fit (available in two-thirds of our models).
Unlike some other brands and sports that use adjustable sizing, most Charles Owen helmets are specifically sized to be within 1cm to give the very best fit and the most protection.
This means if you measure your head properly and pick the right corresponding size, the helmet will fit your head snug like a glove.
On the other hand, if your sizing is out, the helmet may feel tight or, worse, be too loose and come off your head in an accident.
If you prefer adjustable sizing, have a look at our new dial-fit Kylo helmet.
A new helmet should give a firm, even pressure all the way around the head without any uncomfortable pressure points. It will mould to the shape of your head as you wear it, so it's important not to buy a hat that is too big.
Helmets should never rock backwards, forwards or sideways. A helmet that moves on the head in any way will significantly reduce the level of protection it is designed to offer.
Follow our step-by-step guide to measuring and fitting a helmet
If possible, we recommend having a professional helmet fitting and trying on different hats before buying.
Where to buy a riding helmet
The best place to purchase a helmet is from a reputable specialist retailer or stand at an event with a certified professional hat fitter.
There are 100s of Charles Owen accredited stockists across the world. Use our stockist finder to find your closest.
Never ever buy a second-hand helmet to ride in!
Is it ok to buy a helmet online?
You will find most Charles Owen helmet models are available to buy online.
As much as we encourage customers to get professionally fitted in-person and try on a few helmets, we recognise this is not always possible.
If you are turning to the internet, only buy from well-established retailers who specialise in equestrian wear. You can then be confident in the quality and condition of the helmet and will receive the best service if you have any issues.
Avoid being tempted by discounted helmets on marketplaces like eBay and Gumtree from little known sellers.
If you are replacing a helmet like-for-like and know your size then buying online is no issue.
Follow this advice and continue reading our guides (particularly around measuring and fitting) to make buying a helmet online as straightforward as possible.
FIND YOUR PERFECT HELMET
Contact our friendly team if you are struggling to find or buy a Charles Owen helmet.