AyrBrush Reflection
Now available for pre-order from Charles Owen stockists.
New for 2020, the AyrBrush Reflection blends the latest technology with a sophisticated exclusive design that pairs gloss and matte finishes with a crystal accent.
Exclusive Charles Owen gloss paint finish
Front and rear ventilation
Innovative leather-look flexible peak
Soft GRpx® technology harness
Anti-microbial lining infused with silver ions
Washable luxury cushioned headband
Highest grade EPS (Expanded Polystyrene)
Glass fibre reinforced shell
Meets multiple safety standards
Choice of colours
Regular sizes

:

6 5/8 – 7 1/2 (54 – 61cm)
Round Fit sizes:
6 7/8 – 7 1/4 (56 – 59cm)
Available to order from any Charles Owen stockist.
FIND A STOCKIST
BUY ONLINE
Helmet description
Designed for the modern competitive rider, the AyrBrush Reflection combines low-profile aerodynamics with the exclusive pairing of gloss and matte finishes.
A technically superior fit for both oval and round head shapes with a GRpx® harness to ensure stability and provide greater safety to the rider.
Ten ventilation slots at the front and back of the helmet, paired with the removable and washable headband, offer breathability and freshness to each ride.
Safety standards
PAS015:2011
VG1 01-040 2014-12
ASTM F1163-15
Available colours
Recommended accessories
FIND A STOCKIST
BUY ONLINE
How to measure your head
Watch the video for a demonstration of how to properly measure and fit your helmet.
You'll need a soft fabric measuring tape marked in centimetres (cm).
Wrap the tape around the widest part of your head: about one inch above your eyebrows, just above the ear line and around the bump at the back of your head.
Once you have your measurement in centimetres, click here for the size chart to convert it to our standard helmet size.
If possible, we recommend having a professional fitting with your local retailer.
Caring for your riding hat
Charles Owen riding helmets are carefully made and require proper storage, ongoing care and cleaning to maximise their longevity and your safety.
You should replace your riding helmet every 3 years and after any impact, even if there is no visible damage.
Please refer to our helmet user guide.
Design & technology
For over 100 years, our philosophy has been to design great looking helmets that provide the very best level of safety and comfort.

The Charles Owen design team are continuously innovating and integrating cutting-edge research and technology within our products.
FIND OUT MORE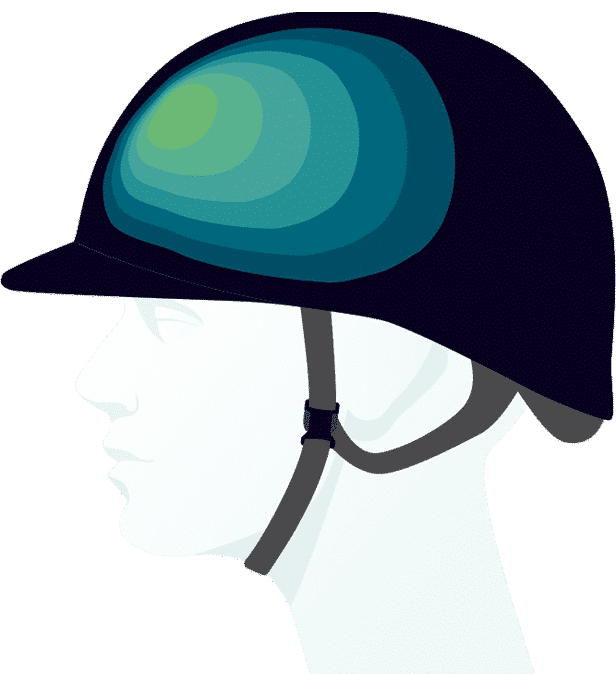 I trust Charles Owen to take care of me with safety and style.
Charlotte Dujardin CBE